Violy Violinist - Wang Boyang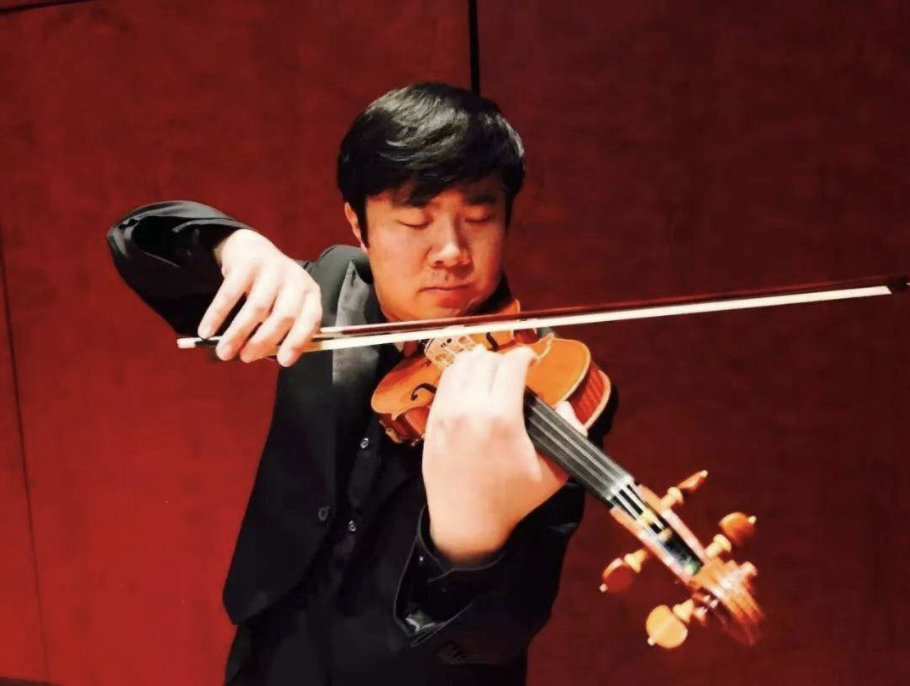 Wang Boyang has been a seed player of New York Young Concert Artist (YCA), a finalist of Music Teachers National Association (MTNA) and was invited to participate the Naumburg Foundation Violin Competition. Wang Boyang began to learn the violin at the age of six under the guidance of Chen Yubo, the Chief of the People's Liberation Army Symphony Orchestra, and the famous educator Jiang Xiongda. Wang Boyang is currently not only learning the violin from Won Bin Yim, who is the director of College-Conservatory of Music at University of Cincinnati and the former director of Great Mountain Music Festival in Korea, but also assisting Won Bin Yim with teaching.
Wang Boyang took the stage for the first time at the age of thirteen, performing solo of the Laro Spanish Symphony in corporation with National Youth Orchestra of China at the Forbidden City Concert Hall. He performed with the orchestra at Beijing Concert Hall, Poly Theatre, Shanghai Oriental Art Center and other concert halls as well. Wang Boyang also performed solo and ensemble in many foreign countries, such as New York Merkin Concert Hall, Cincinnati Corbett Theatre and Illinois Smith Concert Hall. He has worked with many famous quartets, for example, St.Lawrence Quartet, Julia Quartet and Orion Quartet. Besides, Wang Boyang has actively participated in some important social activities, such as Beijing Rotary Club Opening Ceremony and China-US exchange activities to meet with Henry Kissinger by following National Youth Orchestra of China. Some internationally renowned violinists, such as James Ehnes, Augustin Hadelich, Paul Huang, Janet Sung, Emerson quartet, st. Lawrence quartet, and groups have praised Wang Boyang's performance.
Comments from his lecture are as follows:
Host: let's welcome today's guest speaker Wang Boyang.
Wang Boyang: Hello, I'm Wang Boyang. Today, I am going to talk about how to improve music literacy in combination with other art forms in our spare time and of course some violin skills.
The feeling of melody and tune is significant in playing the violin.
Please look at the following sheets, Bach's violin solo, sonata no. 1 in D minor, adagio no.1.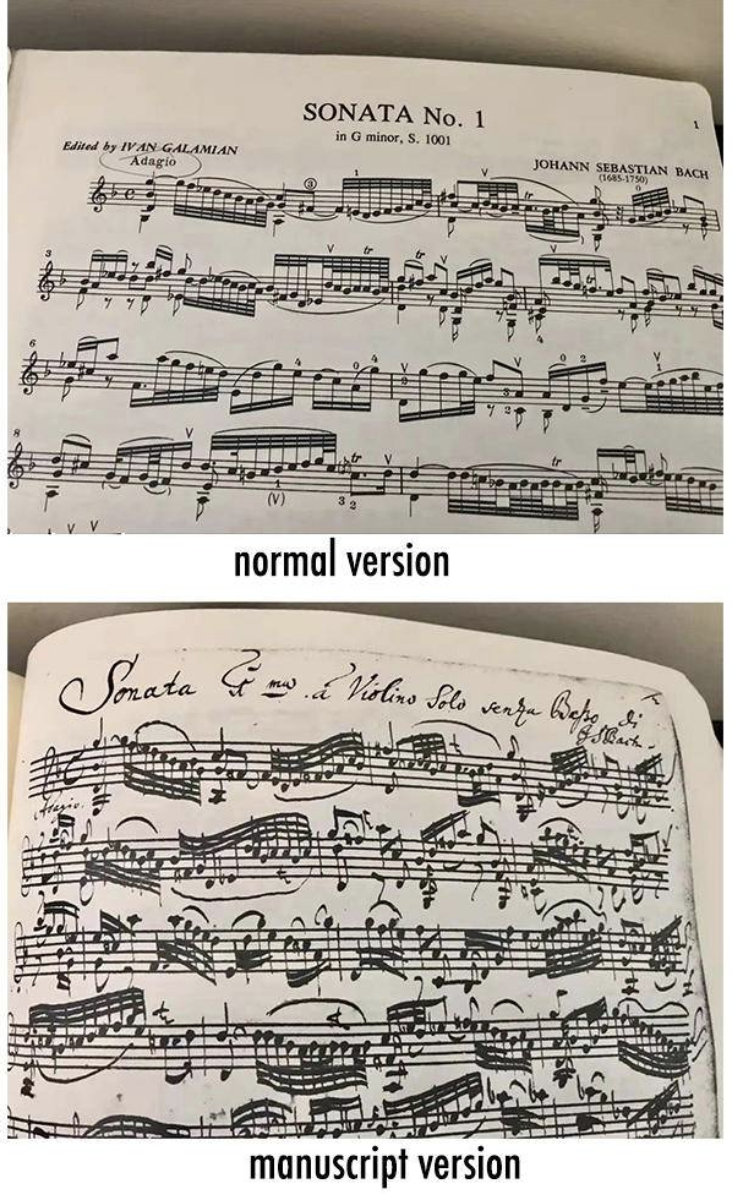 The first picture is the normal form of music sheet. Generally, the music sheets we buy are like the above one, which looks relatively clear, with more notes and chaotic rhythm. Generally speaking, these are the must for students in Conservatories of Music or high schools. I'm going to talk about how to adjust the tune and the melody by taking example of this piece.
The second picture is an original handwritten manuscript, which looks much more chaotic than the first picture, and I believe many of you could not get what that is. This is in G minor, which means it's in G minor.
I'm going to play you two versions of this piece. The first is a normal version of violin playing method and the second is a more traditional version of violin playing method. I personally prefer the second because of its classic method.
Next, I am going to talk about what melody is. I am separating the first row into four pieces.

The melody of this song is formed by these four chords. When you are watching this video, please focus on the long note because the chord that makes up the melody is important. The mess that comes after this long note is ornaments, generally assisting the long note. With the long note and other ornaments, a sheet is presented.
When you listen to it a few times, you match the chord and the ornaments. After you listen to it a few more times, you can see how this music feels.
I have met a lot of students who have trouble with these notes at the beginning. They felt confused and helpless with it so they put effort on those small notes, trying to clear them out. In fact, the long note is more important than these ornaments. When you study pieces of music, you should distinguish between the primary and secondary, develop this sense of melody slowly. That's what it means to improve the sense of music.
Also, using short words or abstract markers to summarize specific feelings in your spare time is helpful.
When you're not practicing, use your spare time to summarize how you feel when you practice, especially the muscles in your hands. When playing the violin, the first word that pops up in your brain is your direct and accurate feeling about playing the violin. Write out and then if, after a few days, that feeling changes, you write another word. The following picture is a summary of my feelings.
There is the difference between the first picture and the second picture. In the second picture, there is an arc above the horizontal line, like a small bridge connecting the two sides of the arc. This is to remind myself to drop the finger well. Everyone feels muscles differently. So, in practice, you can't say the teacher said that you should practice so, you must practice so. The process of absorption the violin playing method is different for everyone, so you can write down how you feel in an abstract form, so that you can summarize it for yourself. Then you look for your feelings based on what you have concluded, and continue to improve, and then the left hand will form a sense of the whole, and finally you will find the sense of the whole.
Let's talk about developing vocabulary to express your feelings about a particular piece of music. Let me give you an example. There are two pictures. The first is a violin sonata by Richard Strauss and the second movement is the second movement of the Baroque violin concerto no. 2. You can clearly feel that these two pieces are not the same thing, although they are both slow movements, a very coherent slowly feeling. The mood is completely different; the first is deep love while the second is the soothing feeling of country minor.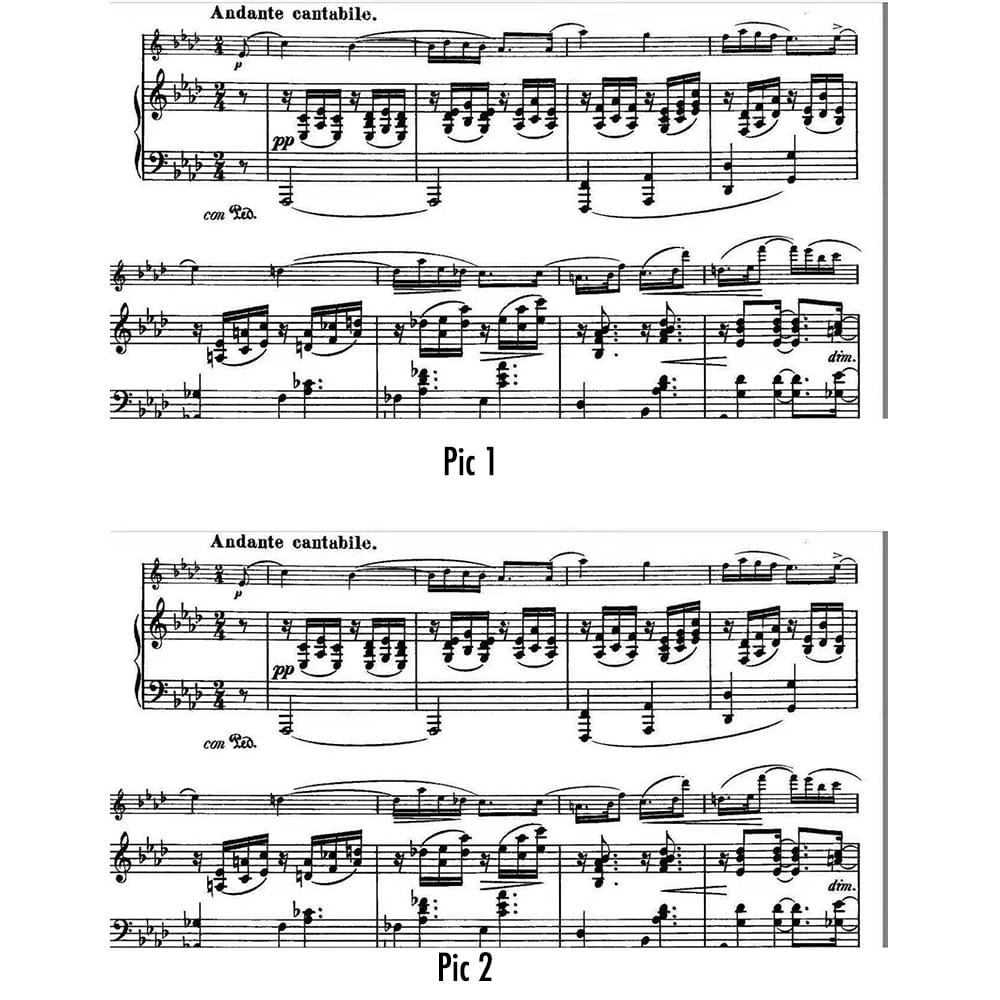 When you listen to the music, you can write down your feelings. For example, take a piece of paper and write down what you listened to today and what you felt. Then you can listen to it and write it again in a few days. If there's a difference, even a word, think about what makes you feel different. Is today better than yesterday, so you think this music is better, or today something happened, and you think this music can reach your heart, touch your heart somewhere. This is a good training for children.
Because when you listen to music, your brain will naturally touch on some previous memories, or some of your feelings. With more practice, you can clearly and concretely capture your feelings and memories, which is very helpful for learning and appreciating classical music. Learning a classical instrument is actually a process of using an instrument to clearly and concretely express certain feelings.
Instrumental playing is a kind of re-creation, where you have to put emotion in during the performance. Composers writing a piece of music is a creation. When you interpret it, it is a second creation. So you have to understand what you're feeling, what you're expressing, and then the audience can receive the feelings you are conveying.
The ability to learn from other art forms is essential.
Now, as I have mentioned, students learning violins should not only focus on violins. That doesn't mean they have to learn all the instruments. I mean, in order to learn violin well, they have to pay attention to other music, at least listen to it and read it. Why does the violin often need to cooperate with other instruments? Because the music that comes out like this is much richer and more detailed in terms of range, timbre, feeling, breadth and so on. The feeling of the violin with different instruments is completely different. Specifically, a combination of violin, cello and piano is much more ideal than a combination of four violins. Therefore, those who learn violin must also pay attention to other instruments and listen to the works of the orchestra rather than listening to violin concertos every day. Here is a picture of an orchestra and what I recommend you listen to.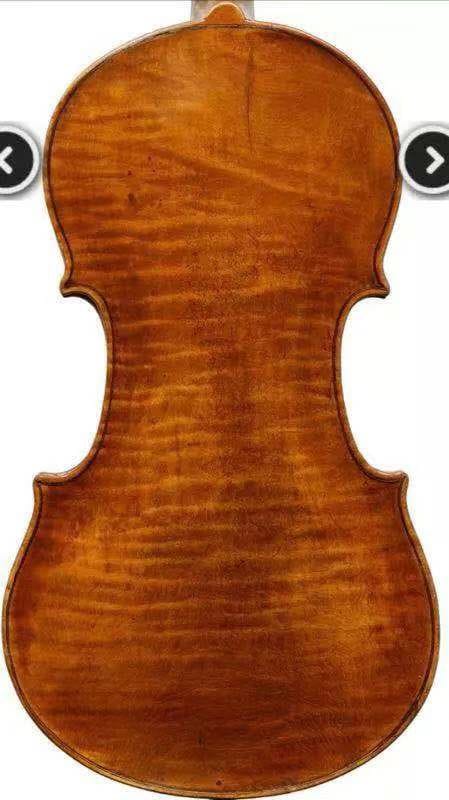 If you look at this violin, the underneath wood grain it is very beautiful, and when you get to the upper right corner, it suddenly breaks. It's not a good board, but it's actually very well made. If its original wood can be completed in one sitting, it will be truly amazing. So do not break the consistence in feeling and learning classic music. This is the same thing in other music sheets.
So when you are learning the violin, don't confined to the violin. Instead, other art forms could help. To see the exhibition is a good way to release the stress from practice the violin and also a way to get inspiration from other art forms. So keep open to other forms that can help us improve our artistic accomplishment.
Host: thank you very much for Mr. Wang's wonderful speech.